Although you can set up a standard website or blog just using basic WordPress, the real power of the platform comes into its own when you add software extensions, called plugins.
These plugins give you added functionality or features to turn a basic website into pretty much whatever you want.
However, with over 50,000 WordPress plugins out there to choose from, how do you know what is best for your website?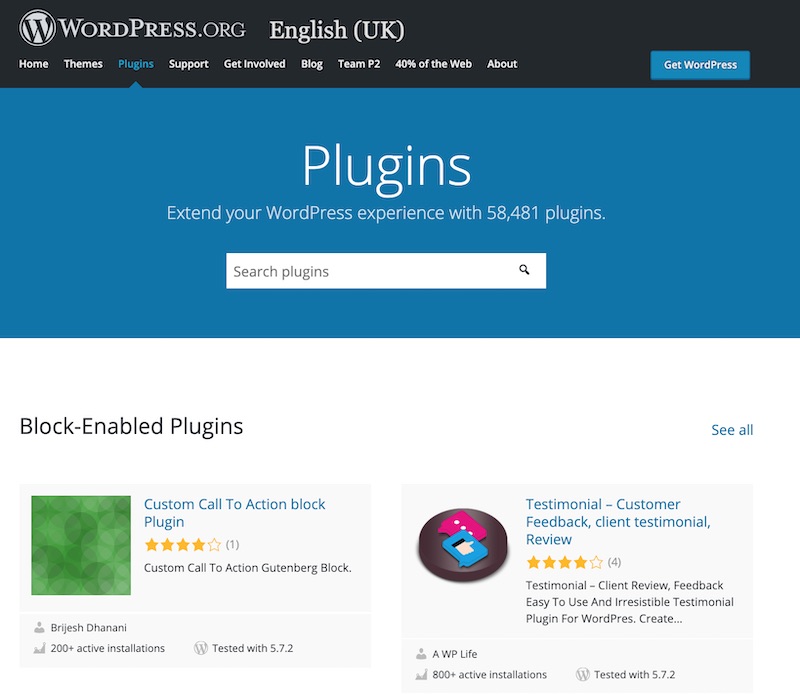 Today I am going to tell you about some of my most used plugins and how I use them. Below I've broken them down into categories based on what they do.
These plugins are either currently being used or I have previously used them extensively on website projects.
Backup
UpdraftPlus – I use this on all my sites to automatically back up on an automatic schedule. What I love about UpdraftPlus is that I can choose between backing up the database and files separately and have them added to cloud storage.

WPvivid – This also allows for automatic backups to cloud services. However, I mainly use the migration feature which they included for free. It makes it super straightforward to move a site from one hosting service to the next.
Security
iThemes Security – This security plugin includes a lot of options to help prevent attacks or security breaches on your site. For example they block brute force attacks and help fix vulnerabilities.
Design
Divi Page-Builder – This is one of the most popular page builders to help you design web pages exactly the way you want. It comes built into the Divi Theme, but you can also get the plugin by itself for use with other themes. I pretty much use it on all my websites.
Form
Fluent Forms – if you are looking for a solid forms plugin that is well designed and looks great out of the box then this is for you. It is available for free for simple forms such as contact forms, but the pro version gives you a lot more power. One thing that I love is that it logs the messages on the site — this is good, just in case your email fails, you can still check for messages
Happy Forms – I used this before Fluent Forms and they have similar features. I love their clean design and flexible settings options.
SMTP Email
If you are expecting your website to send out emails with notifications such as when someone completes your contact form, or if you make a sale, you'll need an SMTP plugin to get it working properly.
The SMTP Plugin allows you to connect to a "transactional" email service. Unlike emails you send 1-1 from a regular email service like Gmail or Outlook, transactional emails are those types of notification style emails or email marketing type emails.
I use Amazon SES and Send In Blue when sending transactional emails, but you can get away with a regular email service if you are not sending in bulk.
FluentSMTP – I use this mainly now as it actually logs the emails going out from your website so that you can check what's been sent and resend them if you need to.
These two are what I previously used but they have no email logging:
Ecommerce
WooCommerce – this the main store plugin I use which allows you to sell Physical and digital products. The base of the plugin is free, but you do need to purchase extensions to give you added functionality, for example, subscriptions.

Easy Digital Downloads – I don't use this anymore, but I have used it when dealing with digital products as it doesn't sell physical products.
SEO
An SEO (Search Engine Optimisation) plugin allows you to add information to your page or post and make adjustments to how it appears in search engines. If used well, this increases your chances of showing up in the search results as well as getting the click through to your website.
These are what use at the moment:
I'm going to stop here as this is quite a few plugins that I've covered. In the future, I will be talking about these individually, and also mention the other plugins I use and various projects.
Need extra help?
Check out the resources I have on futurestepscreative.com including online training and ongoing support, to help you build and grow your website and audience with content marketing.