I've had this conversation a few times now with people who are trying to set up a new website for their business or brand. They know that I use WordPress, but have been seeing ads online for companies like Squarespace or Wix and want to know what's the best website platform to use. Is it better to use WordPress or a hosted solution like Squarespace? Here's my take on it.
Obviously, there are a lot of factors that can contribute to which website platform to choose, therefore you should always know what your needs are and check what each platform offers to see which one best matches your needs.
If you are on a limited budget and just want to start a quick website, then a hosted platform might be a great option as there is no large upfront fee, provided you do everything yourself and not hire a designer. Even though you can, if you don't want to do it yourself and prefer to hire a designer/developer, then you may as well go with WordPress which is the more flexible and cost-effective platform long term.
Let's take a look at my reasoning behind why you should go with one versus the other.
When it comes to creating a new website, there are so many options available now that can help you get a professional website for your business or your brand, up and running in as little as a few hours. This is great on one hand, but on the other hand if you are new to setting up a website, you may be confused by the number of website platforms available to you.
Whether you are looking to do it yourself or hire a professional, it is important to start things off right by selecting a platform that is most suitable for you and your needs.
By now, if you've been searching around online, you may have come across companies such as Wix, Squarespace, Weebly, and other self-hosted platforms that claim to have you up and running with a website in no time, with little to no web design skills. On the other side of things, you have WordPress which is by far the most popular website platform with around 30% of websites in the world using it.
Instead of going into every single detail, let me highlight some of the key points that you need to consider when making your decision about which website platform to go with.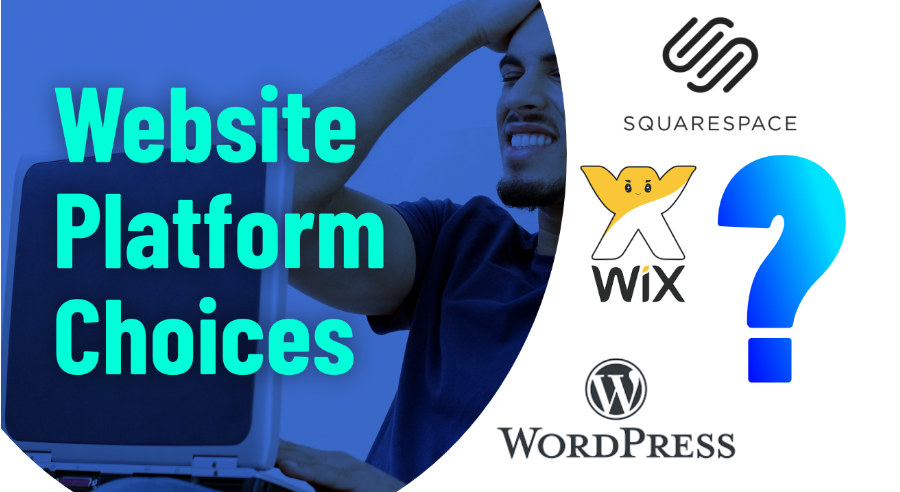 Content Management Systems
It's important to know that all these platforms seek to achieve the key thing, manage & publish your website content in a structured way and convenient way. As a result, they are referred to as content management systems or CMS for short.
This means all your pages, posts, images and other website files can be created and organised efficiently, without having to know or use any computer code to design and create your website pages. Instead, everything can be done in a nice graphical user interface that just about anyone can use.
What I'd like to do in this post, is not so much go through features head to head, but instead help you to make a more informed decision by helping you way up some of the key pros and cons of going with WordPress or a hosted solution i.e Wix, Squarespace etc.
Hosted vs Self-Hosted
Let's take a look at what a hosted platform means vs a self-hosted platform.
Every website is made up of files that needs to be stored and viewed live on the internet when someone requests it. In order for this to happen, there needs to be a host of some sort that facilitates this for you. In other words, they store all the files on these super computers called web servers, which are turned on 24/7 so that at any time your website will be live on the internet.
Hosted: A hosted platform provides an all-in-one solution for hosting, designing and managing your website. Typically you pay a monthly fee and get all the relevant services and tools to create your website. This can be very convenient as you don't have to worry about a lot of the technical aspects of creating your website because there is a support team provided by the hosted company who takes care of these aspects for you. All you have to do is customise your website and add in your content. You can easily achieve a professional looking website without necessarily having web design or development skills.
Self-Hosted: A self-hosted website is one that, as the name suggests, you have to find a host for, as it is not tied to any one provider. WordPress allows for self-hosting and this opens up your hosting options to many solutions as there are hundreds of companies that provide WordPress hosting. You also have many third-party tools that you can add to your website to give you added functionality. This means that you can turn a WordPress website into just about anything you want.
Choosing Your Website Hosting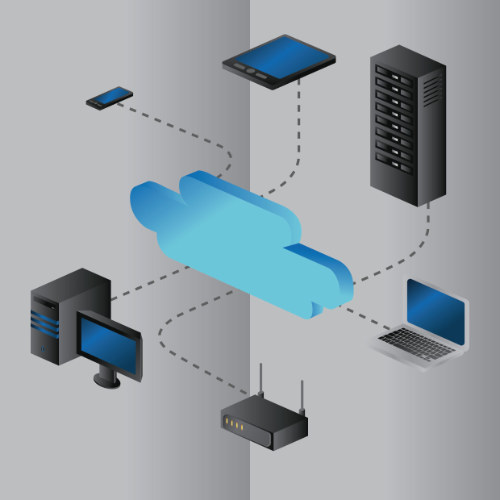 I love being able to choose where to put my website because it means I can get a hosting service that best suits my needs now, and I can move to somewhere else if I outgrow a hosting service or if I have some sort of issue with them.
You don't have these luxuries with a hosted website platform, you are restricted to the limitations that they provide on things like, storage space and processing power. Typically the more you need, the more you pay for higher plans. While this is also true for WordPress hosting, I think that you have far better options with the multitude of hosting companies out there for WordPress. Currently I have my websites on SiteGround and I feel that I get a much better bang for my buck there, compared to what I see from the popular hosted platforms. You can always take a look at SiteGround's offerings and compare prices and features.
Software & Plugins
Your website has to do a lot and to have them work well and as expected, the software needs to be kept up to date and secure.
One great thing about hosted platforms is that the companies providing them already take care of this for you. Not only do they select the plugins that you can use but they also handle any issues that may arise without you having to figure it out. One caveat though is that you are limited with the number of plugins that you have available to you.
With WordPress however, you have thousands of plugins from third parties that you can add to your website for extra functionality. You do however have to be careful about making sure that what you add is reputable and will be supported by their developers with updates and technical support. I personally only add high quality plugins to my WordPress websites for this very reason; they either have to be paid plugins or free plugins from reputable companies.
Because you are running your own WordPress website, you'll need to make sure that you apply any updates to the core WordPress Software and to any plugins as well. This is pretty easy to do from your WordPress dashboard, but if you don't want to deal with this you can use a maintenance service provider to take care of this for you.
Flexibility & Ease Of Use
WordPress makes it pretty easy to build almost any kind of website you can dream up. Although the learning curve is steeper, It has a thriving community that helps each other out and lots of resources to reference. Any challenge you face there is always a solution. With the choices of plugins and hosting companies for WordPress, I believe it is far cheaper over the long term to have a WordPress website. Hosted solutions can get pretty pricey as your website grows and you add more to it.
One key thing to note here is that you cannot decide to move your website from a hosted platform to another as they are not cross compatible. You can only export your content (pages, posts, images etc.) and you would then have to import it back to a new platform and redo your entire design and formatting. With a WordPress website you can backup and move the entire website as is, including design and settings.
Out the gate I'm going to say hosted platforms are easier to learn and use, but that's down to the fact that a lot is already being done for you behind the scenes and you pay the price of giving up some flexibility. Once you learn how to use the tools in WordPress however, things are pretty easy and straightforward.
I actually learn a lot in WordPress by just setting up testing sites and playing around with them as there's no problem if you break something. You don't even need to have hosting to do this as there are ways you can install WordPress on your computer. The software I use to do this is called Local by Flywheel. You can download Local for free and start using it on your desktop or laptop computer.
With most, if not all, hosted platforms you can also sign up for free accounts and start learning how to use them and see if you like what you get.
Conclusion
To wrap things up I'm going to say that making the decision about whether or not to go with a WordPress website or a hosted website solution such as Wix or Squarespace, comes down to these this:
If you dont have alot of time to tinker with your own website you may want to outsource all your website needs to a professional who can handle all the heavy lifting for you and look after your website so that you can concentrate on running your business. There are far more WordPress designers and Developers around than those who specialise in any of these hosted platforms so that's worth bearing in mind.
It's also worth considering your future outlook. For maximum flexibility and power, WordPress is definitely the smart choice. If you don't plan to move beyond the basics then a hosted platform may be just right for you.